Kazakhstan history: Ancient times
Kazakhstan history tells us that even before our era numerous nomadic tribes inhabited what is now Kazakhstan. The historians of antiquity called them the Saka. For many centuries the land of the Saka was the scene of bloody, devastating wars. And many conquerors had encroached on that land.
In 1218, Mongol-Tatar hordes led by Genghiz Khan invaded Kazakhstan. They swept over the Kazakh land with fire and sword. As a result of those aggressive campaigns Kazakhstan, like the entire Central Asian region, was incorporated in the vast empire of the Mongols known in world history as the Golden Horde.
However, the Golden Horde turned out to be an unstable state. Undermined by internecine wars between the feudal lords and the liberation straggle of the conquered peoples, it eventually disintegrated into separate tribal alliances.
Kazakhstan history - The Golden Horde influence map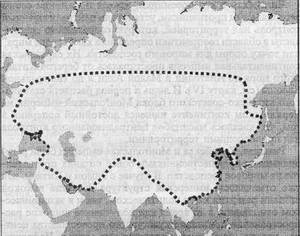 Kazakhstan history - ancient time tribes